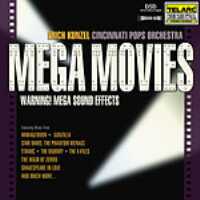 ---
Telarc's latest film music collection featuring Kunzel and the Cincinnati Pops house a plethora of cues from several of the 90s' biggest blockbuster scores. Most collectors will already own many of these, but the disc houses several quirks to influence purchase. The most eminent feature is Telarc's trademark digital sound quality. Quite simply, this is the most pristine clarity to ever hit a compact disc, using Sony's new Direct Stream Digital system. (On a sidenote, Telarc's sound quality greatly enhances their classical library as well, particularly their Mahler recordings.) The performances, for the most part, are exciting and inspired, sometimes even eclipsing the OSTs. The liner notes present a great collective essay on the movies and scores. It should also be noted that a few of the usual Telarc sound effects are included for good measure, and, while mildly annoying, are simple to program out. In the end, this is more for the newbie film score collector than for seasoned veterans, although the sound quality might by a selling point for some.
---
Track by Track Analysis:

1. The Mummy: The Sand Volcano (4:08)

This was one of the score's most exciting action cues, and the Cincinnati Pops perfectly capture its essence, delivering a great performance that sometimes rivals the OST. The cue was a great choice for a sampler from the score - it presents all of the main themes as well as a brief, furious action cue.

2. The Mask of Zorro: SFX

3. Main Title (4:18)

This presents a concert arrangement of Horner's swashbuckling main themes, performed perfectly by the orchestra. The Mask of Zorro was a brief return by Horner to his early '80s roots, possessing some of his best themes and action music.

4. Air Force One: Main Title/The Parachutes (4:41)

Air Force One was one of Goldsmith's better action scores of the '90s, possessing one of his most typical yet most sublime main themes. The arrangement here combines this theme with one of the score's snare driven action cues. Actually, this blows the OST performance out of the water, with much more spacious orchestrations, including a pipe organ during the main theme, forming one of the most inspiring versions of a Goldsmith melody to ever hit CD.

5. The Rock: SFX

6. End Title (4:52)

The quintessential Hans Zimmer action score (although now overshadowed by Gladiator) receives a gully orchestral concert suite of the main themes with no trace of electronics - one of the highlights of the compilation.

7. Contact: End Credits (3:58)

Probably the most subdued addition to the program, this presents a suite of themes from Silvestri's boring sci-fi opus.

8. Mighty Joe Young: Dedication and Windsong (5:29)

Horner's followup to the awesome Mask of Zorro was this critically panned kiddie action score. This arrangement is a concert suite of the main themes: first a typical Horner string theme followed by a hopelessly clichéd African chant with typical orchestral accompaniment.

9. Star Wars: The Phantom Menace: SFX

10. Main Title/The Flag Parade (4:54)

Following a stylized presentation of the immortal main theme, the orchestra segues into the awe-inspiring concert arrangement of The Flag Parade. Williams beefed up the orchestration considerably, and added a few minutes of superb new material, referencing motivs from later in the score, as well as a few new action segments. The only flaw with the performance is its somewhat slow tempo.

11. L.A. Confidential: Badge of Honor/L.A. Confidential (2:27)

Probably Goldsmith's most subtle score, L.A. Confidential is represented by a bit of orchestral jazz followed by the meandering main theme on trumpet. Segments of this actually conjure up images of a more serious version of Escape from the Planet of the Apes.

12. The Prince of Egypt: When You Believe (5:21)

Kunzel decides to ignore Zimmer's more masterful material from the score and instead presents an orchestral arrangement of one of Steven Schwartz's somewhat mediocre songs.

13. The X-Files: SFX

14. Threnody in X (2:58)

Next is a mostly-orchestral version of Mark Snow's opening track from The X-Files movie. Although it presents the opening dissonant suspense music well, the Cincinnati Pops totally subvert the intent of the rest of the cue, highlighting a collection of completely unnecessary orchestral pop rhythms that turn what was once a moving (synthetic) ode to the series into a circus exhibit.

15. A Bug's Life: The Time of Your Life (4:06)

Kunzel next presents an instrumental version of one of Newman's jazzy songs.

16. Elizabeth: Main Title (5:34)

David Hirschfelder's entertaining pastiche of Baroque music receives a lengthy concert suite that highlights several aspects of the score; one of the best surprises from the program.

17. Godzilla: SFX

18. Main Title (3:13)

Sadly neglected because of the horrible movie and lack of score album, Godzilla houses a grand David Arnold theme that is finally realized in this arrangement.

19. Shakespeare in Love: Main Title (3:23)

This presents Warbeck's upbeat, Hornerific main theme from his Academy Award-winning (yet still mediocre) score.

20. Titanic: SFX

21. Back to Titanic (4:53)

This is a suite of the main themes from Horner's blockbuster (yet even MORE mediocre) score. It made no sense in the movie and formed a completely boring listen on CD (except for the rip-off action music). Why it sold so many copies is anyone's guess, although I suppose that's another review for another time.

22. Armageddon: Main Title (3:34)

Rabin's hopelessly mediocre (I've used that word a lot lately) main theme receives recognition in this mercifully brief concert arrangement. Take Zimmer on a bad day, add some '90s Horner, set on puree, and you've got Armageddon. The pipe organ appears again, although it still can't save this turkey, which sounds remarkably like a weak rock song put to orchestra.

Although it bogs down in the second half with horrid material and pop sounds, Mega Movies is one of Telarc's better compilations, especially for the film score newbie.
---
Mega Movies: The Final Score

| | |
| --- | --- |
| Music Rating | varies from 10/10 to 3/10 |
| Packaging/Liner Notes | 8/10 |
| Sound Quality | 10/10 |
| Orchestral Performance | 9/10 |
| Length | 8/10 |
| Overall | 8/10 |
---
Mega Movies is Copyright 2000 by Telarc. Review Copyright 2000 by Andrew Drannon. All Rights Reserved.
---