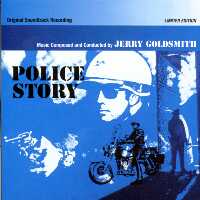 ---
By the 1990's, the realm of television scoring had become a vast wasteland of dense synthesizer patches and backbeats. However, the 1970's, the age of QUALITY shows, gave rise to a series of admirable forays into the genre by several of Hollywood's most recognized composers, including Lalo Schifrin, John Williams, and Jerry Goldsmith. Goldsmith had already become the most famous of these by 1973, having previously penned music for the blockbusters Planet of the Apes and Patton, both for director Franklin L. Schaffner. The very fact that he accepted the assignment to score that year's Police Story demonstrates the former prestige of the small screen.
As expected, the Maestro produced a superior score, drawing on the wicked melodic and atonal jazz that characterized the music for In Like Flint and Our Man Flint. Police Story's title theme proves to be unnaturally addictive and fun, a testament to the composer's naturally engrained melodic sense. The rest of the pilot film's 20-minute underscore suite focuses not so much on this exceptional main theme as on Goldsmith's typical '70's tonal devices such as dark dissonances from the lowest registers of the piano, screeching string runs, growling trombones, and grueling action cues, such as the six-minute tour de force of "The Market/Quick Draw."
This 2000 release on Prometheus presents the entirety of the composer's sparse underscore for Police Story's 2-hour pilot film, as well as entertaining library cues for the regular episodes that provide variations and expansions of nearly all of the pilot's themes and underscore devices. Additionally, Prometheus includes a 7-minute suite from Medical Story, a pre-E.R. spin-off of Police Story, with a main theme by Goldsmith and episodic underscore by the composer's long-time friend and orchestrator, the late Arthur Morton. As is typical with the company's special edition releases, Police Story contains a lengthy liner essay by Gary Kester that provides helpful background on the show and an intriguing introduction to the music.
However, as with several of Goldsmith's 150+ scores, Police Story is best relegated to the shelves of die-hard Goldsmith collectors due to its challenging orchestral underscore that, while serviceable in the show and quite captivating in its own right, has been displaced by dozens of more worthy Goldsmithian opuses that more fully demonstrate the mastery of the composer's talents. Obsessed Goldsmith fanatics who already own all of these will doubtless want to head over to Soundtrack Magazine to purchase a copy, while others should look to more noticeable works such as Alien, Planet of the Apes, Capricorn One, Under Fire, and Twilight Zone: The Movie to fully experience Goldsmith's timeless music.
---
Track by Track Analysis:
I. POLICE STORY: THE PILOT MOVIE
1. Theme from Police Story (.31)
Goldsmith takes his main theme from the first page of his unspeakably cool 1970's writing with a jazzy ostinato for electric guitar, trombone, and piano, on top of which he adds a complex, addictive flute melody.
2. Hot Car (2.27)
"Hot Car" promptly delves into the composer's typical suspense mode with a series of dark underpinnings for gritty trombones, piano, and snare drum, offset by dissonant strains from otherworldly synthesizers and an offshoot of the main theme in flute. The second half introduces a tense ostinato that recalls sections of Planet of the Apes with copious percussion, the aforementioned synthesizers, and piano. Finally, the main theme bursts forth in a rollicking arrangement, identical to the main titles.
3. The Tail (2.10)
The main theme provides a rousing introduction to this cue, in which Goldsmith presents several exciting permutations of his theme for soaring strings and horns, as well as his signature Hammond organ. The finale presents one of the album's best versions of the main theme for full orchestra. This cue's refreshing melodies hearken back to The Last Run.
4. The Lawyer (.26)
This short cue provides a groovy stinger of a mobile bass ostinato and a brass fanfare.
5. Stakeout #1 (1.10)
One of the show's more mellow cues, "Stakeout #1" uses as its foundation another typical 1970's chord progression for bass and Hammond organ, to which the composer later adds tense dissonances in the brass.
6. Wrong Number (1.59)
A relatively typical suspense cue, this begins with a moody orchestral lament for low strings and a lone solo trumpet, although Goldsmith soon displaces it with a meandering ostinato figure for a harpsichord, frequently interrupted by malevolent cries from dark low strings. A new, sorrowful clarinet theme ends the cue, hinting at some of the composer's 1990's lyricism.
7. A Love Affair (1.53)
The mournful "love theme" that concluded "Wrong Number" becomes the centerpiece of this, one of the album's most appealing and classically-styled cues. It begins on timid piano, vibraphone, and guitar, and Goldsmith mutates the melody into a Baroque-styled ode for Hammond organ, piano, and a breathtaking cello solo.
8. A Lack of Trust/The Stoolie (.55)
This brief suspense cue begins with a recapitulation of the gruesome dissonances for low brass, synths, percussion, and guitar that opened "Hot Car." Typical apprehensive mid-range string trills and percussion round out the track.
9. The Phone Booth (2.08)
An hesitant, yet kinetic cadence for percussion forms the main section of this track, utilizing timpani and bass drum as melodic instruments in the same method as parts of Twilight Zone: The Movie's opening segment. The main title makes a welcome reappearance as an action theme for the full orchestra in the cue's second half.
10. Stakeout #2 (.44)
This returns to the mellow bass chord progression of "Stakeout #1," adding a mild descending chromatic idea for flutes and celli.
11. The Market/Quick Draw (6.03)
Easily the score's best action cue, this begins with another recap of "Hot Car's" tense orchestral dissonances, expanded into a lengthy suspense cue, augmented by unsettling cluster chords from the Hammond organ, a wandering, unearthly synthesizer wail, and offhand references to the main title's bass line. "Quick Draw," however, explodes into a kinetic, sometimes dissonant orchestral action cue that interpolates the main theme at various intervals, now with Goldsmith's trademark arching string/horn melodies, a hefty piano ostinato, percussion, and intermittent outbursts by flute cluster chords.
12. The Hospital/End Credits (2.17)
This final track serves as a culmination of the score's two themes. "The Hospital" again returns to the moving, angst-ridden love theme of "Love Affair" for piano, mournful cello, and bright flutes. "End Credits," of course, recaps the show's magnificent main theme in a large orchestral arrangement that plays verbatim to the main title.
II. POLICE STORY: Library Cue Variations - Arranged by Richard Shores
13. On the Streets (1.55)
14. Foot Pursuit (2.05)
15. Legwork Montage (1.20)
16. Stakeout Duty (.44)
17. Watching and Waiting (.35)
18. Tailing (2.00)
19. Build and Act Out (.26)
20. Street Action (2.02)
21. Market Hold Up/Draw! (6.05)
22. Love Theme (1.54)
23. Hot Pursuit (2.12)
24. End of Shift/End Credits (1.26)
As a bonus to soundtrack collectors, Prometheus includes another 12 cues of Police Story music, arranged by Richard Shores from Goldsmith's pilot score. As expected, these play much like their counterparts in the pilot score, sometimes reworked and simplified, and definitely with a heavier dose of the main theme. Although the thematic material has already been touched upon in the other score and several of these cues seem repetitive next to their fuller film versions, many present exciting, sometimes more complex versions of the cues, as well as a few new surprises that will definitely please Goldsmith fans and fans of the score.
III. MEDICAL STORY: PILOT MOVIE - Theme by Jerry Goldsmith, Score by Arthur Morton
25. Suite (7.09)
Medical Story's main theme is possibly this album's stand-out cue, with an epic theme for arching French horns and trumpets, as well as pulsing synthesizers reportedly meant to simulate electronic medical equipment. Arthur Morton's episodic underscore presents a lighter, more bucolic and tender variant of the style heard in Police Story that still manages to contain some effective atonal suspense and action cues. To maintain a sense of continuity between the two series, Morton includes a moving orchestration of Police Story's love theme.
Police Story, while definitely one of Jerry Goldsmith's lesser efforts, undoubtedly holds many gems for the composer's legions of fans. All of the main themes serve as some of the composer's best, while the underscore presents the quintessential tense and dissonant aspects of his 1970's style. In short, rabid Goldsmith collectors will cherish this release, while others had best investigate more prominent characteristics of the composer's oeuvre.
---
Police Story: The Final Score
| | |
| --- | --- |
| Music Rating | 6/10 |
| | |
| Packaging/Liner Notes | 8/10 |
| Sound Quality | 7/10 |
| Length | 9/10 |
| Orchestral Performance | 8/10 |
---
Police Story is Copyright 2000 by Prometheus. Review Copyright 2000 by Andrew Drannon. All Rights Reserved.
---