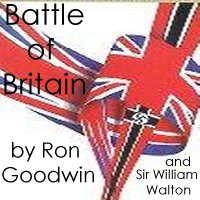 ---
This score, for a 1969 World War II action flick, has something of a convoluted and intricate history. Originally, Sir William Walton was commissioned for the score, after star Lawrence Olivier, who had worked with the universally acclaimed composer on several Shakespearian films, recommended him to the studio. The score he composed, while quite short at 20 minutes, showed his typical combination of orchestral complexity and listenability. Unfortunately, the studio found the score too short for a 3+ hour film (although the liner notes state the unlikely possibility that it was thrown out because of lack of material for a soundtrack album), so they threw it out and hired Ron Goodwin to compose a replacement score. As a sidenote, one cue from Walton's score (the spectacular 5 minute Battle in the Air) was eventually used in the final print, when Olivier threatened to leave the project unless some of the score was utilized. Goodwin, also a masterfuly talented British composer, formed an equally impressive replacement score, somewhat less complex, but more listenable. Befitting the British viewpoint of the film, both scores are made up of long series of military marches, somewhat reminiscent of Jarre's Lawrence of Arabia. There has been a seemingly endless controversy on the Internet about the relative artistic merits of each score, but the bottom line is that both constitute some of the very best of British film music, and the listener should take each on their own terms, which is finally possible due to Rykodisc's lavish new release of both scores. Presented first is the complete score as heard in the film, consisting of 18 tracks of Goodwin's music, plus the arrangement of Battle in the Air used in the final print. Following is a complete 9-track representation of Sir William Walton's magnificent rejected score, available for the first time. As with most of Ryko's reissues, the packaging and liner notes are superb, and the company finally conformed to the booklet liner note standard instead of the cumbersome posters used in previous releases. The notes contain a long analysis on Walton's score (any conversation on Goodwin's is noticeably absent), as well as a retrospective on the film. As a final note, the CD is enhanced, so you can use it on your computer CDROM drive to view the original 5 minute theatrical trailer.

---

Track by Track Analysis:
I. Ron Goodwin's Score
1. Battle of Britain Theme (1:25)
The film's used soundtrack opens with a statement of the main Britain theme, which is a soaring march. The images conjured up are as you would expect with a war film concerning air battles - upward reaching and ultimately emotionally fulfilling. In fact, this theme is quite similar in tone (if not necessarily in orchestration) to parts of Jerry Goldsmith's earlier score to The Blue Max.

2. Ace High March (3:35)
The score continues with another march, expanding upon the material heard in the previous track. It's much more martial in character than its predecessor, however, and in the end I enjoy it a lot more, as well. Goodwin crams a ton of thematic material into the march's short running time, including a fantastic opening brass fanfare. The main theme is stated a few times, intercut with 2 quieter interludes for clarinet choir. In the last minute, however, the tone turns into a minor key, leading to a spectacular conclusion with the main material.

3. The Lull Before The Storm (1:40)
After the series of fantastic marches, we appropriately take a break with this subtle, haunting piece for string and woodwind ensemble. The excellent thematic material is some of the best found in Goodwin's score.

4. Work and Play (2:30)
For some reason, the sound quality suddenly takes a turn for the worse here - this piece is presented in mono. After an incredible brass opening, the tone turns more humorous and lightweight with an almost jazz-like piece for strings. It's somewhat dated now, but appropriate for the time it was written. In the last section, the brass return with a fanfare based on the Ace High March.

5. Death and Destruction (1:26)
Dissonance comes into play in this track, which is one of the most subtlely ominous cues thus far. The dissonant string melody line is based on top of a foreboding chromatic figure. An outburst of brass precedes the disturbingly atonal ending. Also, the sound quality is back to stereo now.

6. Briefing The Luftwaffe (1:18)
Goodwin blends elements of his two main marches in the intro to this cue, which contains the accompaniment from the opening, coupled with the melody line from "Ace High." Atonal strings continue the action, which now sounds like something from Stravinsky.

7. Prelude To Battle (3:24)
Another somber cue plays now with a new string melody that's somehow familiar, yet unheard until this point. A soaring string flourish interrupts, however, and the cue continues with another quiet march. Finally, for the last section, Goodwin's spectacular Battle of Britain march takes center stage.

8. Victory Assured (2:16)
This upbeat, exciting piece is based on the main material from the Ace High March, is played first in its traditional martial fanfare style, then converted to a slower, equally swaggering march.

9. Defeat (1:28)
Surprisingly, given the downbeat name of the cue, most of it is in a major key, based on Ace High again. Intercut with this is an exciting, furious descending woodwind line.

10. Hitler's Headquarters (:58)
Yet another jubilant outburst of the Ace High march takes over in this cue. Surprisingly, unlike a lot of other scores, this theme never begins to get old because of the extraordinary ways in which it's played. This time, it's the loudest we've heard it so far, in a grand fanfaral tradition.

11. Return To Base (:48)
A short recap of the Battle of Britain theme forms this short, pleasant cue.

12. Threat (1:25)
Well, this surely is a relaxed track, given the threatening martial title. Of all the themes present in the score, Goodwin goes for the jazzy string theme, which is a welcome respite from the barrage of marches. In fact, the tone doesn't turn sinister until the very last dissonant horn section.

13. Civilian Tragedy (1:11)
One of my favorite cues, this starts out as an ominous string theme, which quickly turns into an excitingly menacing circling string motif. The last 15 seconds are home to a short horn section - the sound quality suddenly changes to mono again, which is quite strange. Ryko must not have had access to the original masters for these cues.

14. Offensive Build Up (3:47)
This piece is a peaceful respite from some of the more martial action found before, at least its first half, which is made up of a building string section. In the last half, this passage continues, but it's now interrupted at various intervals by the huge brass section, which is sure to take you by surprise. In the last minute, the BOB march accompaniment takes over, and a full statement of the theme ends the cue.

15. Attack (1:02)
The Ace High march, which, BTW, is my favorite theme of the score, forms this cue. It's slowed down but played twice as loud. In the last 10 seconds, one section of the main march makes a short cameo.

16. Personal Tragedy (:47)
Befitting its title, this is a despairing, yearning string piece.

17. Battle In The Air (from Walton's score) (4:54)
The only piece from Walton's score to make the final print is probably the best cue in the score. He scores this ferocious action cue with his typical combination of growling dissonance and strange listenability, making for one of the most exciting cues in war movie history.

18. Absent Friends (1:07)
Back to Goodwin's music, the score is finally settling down into a triumphant finale. A jubilant statement of the Ace High march forms this cue, along with a series of solos based on our good old BOB march.

19. Battle of Britain Theme - End Title (2:59)
The spectacular Ace High march is given a rousing send-off in the opening of this cue, followed by a full representation of the Battle of Britain theme, which actually wasn't used that much in the score now that I think about it. Goodwin's arrangement of it for the end title is most assuredly the BOB march's finest hour.

II. Sir William Walton's Score:
20. March Introduction and Battle of Britain March (2:18)
As I said earlier, Walton's score is much more downbeat and ominous that Goodwin's exciting fanfares, but it ends up being a superior score due to its sheer complexity. After a dissonant opening, the main march is stated, which doesn't have the slightest hint of dissonance. Like Goodwin's, it's appropriately soaring and noble, but Walton's isn't nearly as martial.

21. The Young Siegfrieds (1:24)
Walton's score continues with an exciting, dissonant string and brass fanfare. However, the next section is lacking in atonality, made up of a fun, jubilant march for full orchestra.

22. Luftwaffe Victory (1:18)
Another jubilant march begins the track, which soon turns somewhat dissonant with a string accompaniment, now under an exciting brass fanfare which continues to build throughout its playing time.

23. The Few Fight Back (1:53)
This cue is made up of another blazingly fast and martial brass fanfare section, which quiets into a foreboding, macabre march at the end.

24. Cat and Mouse (2:54)
That march from the end of the previous cue opens this one, played faster and more out of control by Walton's masterful orchestra. The tone later changes to one of humor with woodwinds and pizzicato strings, only to be taken over by atonality.

25. Scherzo "Gay Berlin" (1:21)
Walton's scherzo, which opens with more ominous atonality, soon turns into the most upbeat section in either score - a major key dance - which could almost be called comical.

26. Dogfight (1:30)
Thematic material from that march in "Few Fight Back" opens this cue, only to be vanquished by an almost ballet-like statement of the fun "Young Siegfrieds" theme for brass.

27. Scramble!/Battle in the Air (5:41)
A grand, triumphant statement of the upbeat section from "Cat and Mouse" forms the first cue, which later turns dissonant. "Battle in the Air", as I said above, is probably the highlight of both scores, combining brash, brassy heroics with hair-raisingly ferocious dissonance. Surprisingly, one section sounds like part of Stravinsky's "Rite of Spring."

28. Finale: Battle of Britain March (2:30)
Like several other Walton cues on the album, the end titles open with dissonance, only to be replaced by a second, final reprise of his noble, grand march.

In the end, I think that anybody could find something to love on this album, although some may tire of the endless British marches. However, fans of those will feel right at home in this exciting, lovingly restored CD.
---
Battle of Britain: The Final Score

| | |
| --- | --- |
| Music Rating | 8/10 |
| | |
| Packaging/Liner Notes | 8/10 |
| Sound Quality | 8/10 |
| Orchestral Performance | 10/10 |
| Length | 9/10 |
---



---
Battle of Britain is Copyright 1999 by Rykodisc. Review Copyright 1999 by Andrew Drannon. All Rights Reserved.