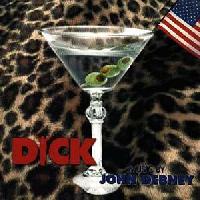 ---
My, how the mighty hath fallen... After a spectacular introductory score, Cutthroat Island, scored for massive orchestral and choral forces, Hollywood seems to have relegated the extremely talented John Debney to either conducting for Varese Sarabande Film Classics (which is quite honorable) or scoring low-profile comedies and slasher flicks, none of which have soundtrack releases (except for promos, some of which can run over $100). This is quite unfortunate, since the young composer is quite gifted and most of these scores are spectacular, particularly the horror scores (I Know What You Did Last Summer and The Relic.) Dick falls under the comedy genre, and while the film was somewhat popular, no record company deigned to release a score album. Thus we have this rare promo, which can be found at a few specialty outlets for the outrageous price of about $30, which, when considering its short 25 minute running time, seems even more expensive (over a dollar per minute!). To ease the fears of the general film score community, you're definitely not missing much, and only rabid Debney fans should even think about buying it. As far as the actual music is concerned, it's a nice little jazzy score, with a few more Latin elements mixed in. Nothing to write home about, although I suppose it worked fine in the actual movie (which I haven't seen.) The packaging is quite nice, as good or better than a few Varese releases, complete with a picture disc.
---

Track by Track
1. Watergate Break-In (2:34)
The score begins with a typical, cliched "spy" scene. A foreboding string trill starts it off, but it's soon dipped into jazzy Latin percussion and foreboding strings. Syncopated piano bass continues this spy feeling, and the majority of the rest of the cue has high strings with the Latin percussion. A fairly nondescript start to a fairly nondescript score.

2. Skipping Through Town (1:12)
One of the weirdest cues I've heard lately, this takes an improvised jazz piano background and adds swinging "Yaba dap" vocals. The second half slows down, with a female solo. It's probably one of the better cues on the promo, however.

3. Lounge-Y Dick (1:26)
As the title implies, this sounds like typical lounge music, with a sax ensemble backed by orchestra and more Latin percussion. One of the biggest problems with this score is the disjointedness of it all, changing moods with every cue, with each one less than 3 minutes.

4. Up Gloss Intrigue (1:06)
Continuing the mood of the main title, this uses the Latin percussion, string trill motif, and jazz background.

5. Girls See Liddy (1:36)
The first part of this section is based on that string trill motif (the only real theme present in the score, besides "Skipping"), with woodwind backing. The spy atmosphere returns again in the second half, complete with Latin percussion, although the piano's now replaced by electric bass.

6. Arlene Swoons/Shredding the Evidence (1:32)
Here we have the first "serious" portion of the score, although it lasts all of 30 seconds. It's basically just a typical string piece. Spy music returns for "Shredding the Evidence," accompanied by a strange electronic instrument. The music turns almost into an action cue with several loud sax riffs and fast strings.

7. Dreams of Dick (:34)
Although it's less than a minute long, this is probably one of the best cues present here, with an evocative female vocal.

8. The Phone Is Tapped (:34)
Our next short cue is quite nondescript, consisting of one of the spy motives played on vibraphone and woodwinds.

9. Breezy Day (1:13)
Debney forms an instrumental version of his "Skipping" theme here, for swing jazz ensemble. The second half is quite pleasant, sounding faintly like parts of Gershwin's "Porgy and Bess."

10. "I Honestly Love You" (Arlene Vocal) (:52)
Truly frightening. That's all you need to know.
It's comprised of one of the hideously off-key characters singing a pop song, backed by orchestra. It's followed by a dialogue segment with horribly cliched romantic lines. Just trust me and stay away. If you buy this, once you hear someone saying "There's this Olivia Newton-John song..." just change the track.

11. Discovering the Tape (1:27)
Another tender evocative track with female vocals. Serviceable enough, I guess.

12. High School Band (:36)
Probably the best track on the album (it's a shame it's only 30 seconds), this consists of a high school band playing an exciting Latin-influenced piece.

13. Arlene Is Heartbroken (:48)
Beginning with the spy motif on vibraphone, this soon becomes a slower reprise of the skipping theme, complete with vocals.

14. Followed by Dick Montage (2:01)
More spy music, now with timpani. As the scene progresses, the music gets faster and more ominous. Yay.

15. The New Boyfriend (1:30)
More jazzy swing stuff, with vocals and improvised muted trumpet.

16. Spies (:45)
Given the title, it's no surprise that this is made up mostly of the spy motif.

17. The Robbery/Escape (2:01)
Boring suspense music forms "The Robbery," while "Escape" continues the motif, now with Latin swing percussion.

18. Driving the Girls Insane (1:33)
The first part of this is pretty cool, with orchestra and vocals colliding into dissonance. The second half is a frenzied action cue, with dissonant jazz instruments and more of the Latin drums.

19. "I Thought You Were Cute" (:39)
Those swing vocals are back, but this cue is slower, with the second half made up of the spy theme.

20. Skipping Reprise (1:12)
It's the exact same track as #2, although it provides a great bookending of the score.

In short, only die-hard Debney fans will want to spend the astronomical amount of money to get this, and, while the score is pleasant enough, it won't appeal to general film score fans, especially those who despise jazz and swing music.

---
Dick: The Final Score

| | |
| --- | --- |
| Music Rating | 5/10 |
| | |
| Packaging/Liner Notes | N/A |
| Sound Quality | 6/10 |
| Orchestral Performance | 8/10 |
| Length | N/A (I'm not going to criticize it, since the promo presents the whole score.) |
---
Dick is Copyright 1999 by Columbia Pictures. Review Copyright 1999 by Andrew Drannon. All Rights Reserved.
---