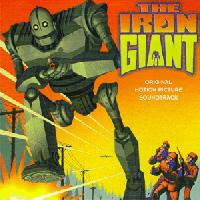 Score by Michael Kamen

---
If there's one thing that should be every film score fan's worst enemy, it's mainstream Hollywood record companies. They are the reason that most scores go unpublished, while others are reduced to 5-10 minute suites next to a barrage of pointless rock songs, many of which didn't appear in the films. Rhino is usually better than this, since they're responsible for, among other things, that magnificent Ben-Hur 2CD reissue (review coming soon). However, this time the score is reduced to 8 minutes, while '50s rock songs get the majority of the running time. As far as the actual music is concerned, it's quite soaring and moving, and those that are interested in this score should go ahead and buy the whole Varese album, which presents most of the score. Don't waste your money on this.
---

Track by Track
13. You Can Be... (4:48)
Michael Kamen's score gets off to a rousing start with a full orchestral crescendo, which transforms into the exciting main theme. I think that Kamen used Williams' E.T. as a model for this, although this isn't quite as competant. Surprisingly, most of the string and woodwind runs are quite dissonant, and the main theme seems overly tragic for a children's animated movie (probably to foreshadow the ending). The second half of the track calms down and is a tender pastoral movement. The last minute is home to a short dance-like section.

14. ...Who You Choose To Be (4:07)
Continuing with the mood of the other score track, this is another pastoral string piece, which turns ominous in its second half. I think the producers should have chosen a different score track, since most of this is a mirror image of the first track. There has to be at least one action cue on the other album...

And that's it. Like I said, if you are interested in this score, definitely go for the Varese release, since this has less than 10 minutes of the score. Given, what's there is very good, at least half of it, but why would you want this when you can get 5 or 6 times the amount of music on the other album?

---
The Iron Giant: The Final Score

| | |
| --- | --- |
| Music Rating | 8/10 |
| | |
| Packaging/Liner Notes | N/A |
| Sound Quality | 8/10 |
| Orchestral Performance | 7/10 |
| Length | 1/10 |
---
The Iron Giant is Copyright 1999 by Rhino. Review Copyright 1999 by Andrew Drannon. All Rights Reserved.
---