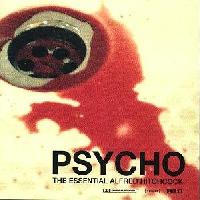 ---

Silva Screen Strikes Again! How do these people keep churning out compilations at this rate? This must be at least the 10th one this year! This is one of those where everything has already been released before in different compilations, but not together, which I guess is great for non-film score fans who want a retrospective of Hitchcock's career, but, honestly, haven't we all heard these before? Also, I know we always complain about how short soundtrack releases are now, but I've got the opposite complaint for these compilations - how are we supposed to sit through 2.5 hours of these film themes? Anyway, if you take each recording on its own terms, most are great interpretations of masterful pieces for one of the most reknown directors in history. Like any Silva release, the notes on each movie and its music are great, the sound quality is spectacular, and the orchestral performance is, um, widely variable. The City of Prague Philharmonic is definitely growing in musical skill, but a few of the performances are really flawed. Overall, if you're new to film music this is a worthy purchase, but most others already have most of the stuff on here.

---

Track by Track

Disc One -

1. Funeral March of a Marionette (Charles Gounod)
The Alfred Hitchcock Theme (4:18)
I'm pretty sure everyone knows the melody to this - it's engrained itself into pop culture as both Hitchcock's theme and a personifaction of the macabre. Here it's actually played in its full form - not heard often. The theme is expanded into a theme-and-variations form with several new sections.

2. The Thirty Nine Steps (Jack Beaver & Louis Levy)
Suite (4:06)
We now delve into the uncharted waters of Hitchcock's earlier career, most of which hasn't been released before. This suite bubbles with typical Golden Age enthusiasm and orchestration. It's based on two themes - one a barbaric brass fanfare and the other a lush ballad for clarinets.

3. The Lady Vanishes (Louis Levy & Charles Williams)
Prelude (3:06)
Like several British films of the period, this score is characterized by a piano concerto writing style. After an orchestral crescendo, the piano introduces the haunting main theme, and the sections blend throughout the orchestra.

4. Rebecca (Franz Waxman)
Suite (7:09)
Okay, I admit it. Franz Waxman is one of my favorite composers of all time. And Rebecca is definitely one of his better scores, although I don't think I'd place it alongside Bride of Frankenstein, Prince Valiant, or Sunset Boulevard. He composed a sweeping, yearning, yet dark theme to characterize the title character, and his trademark style of blending Romantic chromaticism, seventh chords, and dissonant orchestration really comes through in this suite. Admittedly, the performance is nothing compared to Charles Gerdhart's virtuoso interpretation for the RCA compilation.

5. Suspicion (Franz Waxman)
Prelude - Sunday Morning (4:41)
Waxman is back, and the opening Prelude is another grand theme in the style of the earlier one for Rebecca. As you'd expect, Sunday Morning is an upbeat dance-like scherzo for strings.

6. Lifeboat (Hugo Friedhofer)
Disaster (3:06) (Includes Fox Fanfare by Alfred Newman)
Before I say anything else, I'd just like to comment that this is one of the worst playings of the Fox Fanfare I've ever heard. Oh well, the main title itself is a huge ship-in-jeopardy number full of the usual bombastic dissonant chords and string runs.

7. Spellbound (Miklos Rozsa)
Concerto for Orchestra (9:32)
This is probably one of of Miklos Rozsa's most famous pieces - he takes his combination weird/romantic/dark score for Spellbound and expands the thematic material into a full concerto. This isn't the usual piano concerto version, however, it's mainly for orchestra with a few piano flourishes (I suspect they couldn't find a skilled enough pianist to execute the regular version.) Also noteworthy is Rozsa's use of the electronic theremin, which really adds to the schizophrenic nature of the dream sequences.

8. Rope (Francis Poulenc & David Buttolph)
Main Titles (2:11)
What a coincidence - I just saw this movie last night. It's one of Hitchcock's most radically different - the entire 80 minute film is one continuous shot (or so it seems - there are actually a few hidden cuts.) Although the first part is a little slow, once James Stewart appears, it becomes one of Hitchcock's most suspenseful efforts. There was very little score to speak of - some source music involving a piano, which played one of Poulenc's melodies. Here that melody becomes the main theme in a full orchestral arrangement.

9. Under Capricorn (Richard Addinsell)
Suite (7:06)
From the composer of the popular Warsaw Concerto, we have this typical score, full of Golden Age romance themes and brass fanfares.

10. Stage Fright (Leighton Lucas & Philip Lane)
Rhapsody (5:01)
This is a concert piece formed from the two main themes of the score - a huge fanfaric overture and yet another Golden Age love theme. This piano concerto is perfectly competent, but nothing new for film music fans.

11. Strangers on a Train (Dimitri Tiomkin)
Suite (7:20)
It amazes me - like most of Hitchcock's other films, this was about murder, but the main title cue is a huge spacious landscape theme. That seems to happen a lot on this disc. Oh well, Tiomkin's music is still masterful, inserting a few traditional jazz elements.

12. Dial M For Murder (Dimitri Tiomkin)
Suite (7:48)
The Big Theme syndrome takes over again - we've got this bubbling spacious score for one of Hitchcock's darkest films. That's not to say it's bad - in fact it perfectly represents Tiomkin's usual sweeping sound.

13. Rear Window (Franz Waxman)
Lisa (3:50)
Waxman is back, and at his most jazzy. Instead of the usual huge orchestral theme, we've got a nice sax solo with a small ensemble. It's not atonal like some of his material for A Place in the Sun and Sunset Boulevard, though.

Disc Two -

1. To Catch a Thief (Lyn Murray)
Suite (5:54) (Includes Paramount Vista Vision Fanfare by Nathan Van Cleeve)
This was one of Hitchcock's lightest movies, and you can DEFINITELY tell - the music is typical Golden Age fluff.

2. The Trouble with Harry (Bernard Herrmann)
Portrait of Hitch (8:49)
We now hit a string of Herrmann rerecordings, which I'm sure just about every film music fan has heard MANY times. As you know, this was a concert suite of all the main themes from the darkly comedic film.

3. The Man Who Knew Too Much (Bernard Herrmann)
Prelude (2:17)
Herrmann takes a rare trip into giant brass fanfares for the exciting Prelude to "The Man Who Knew Too Much." In fact, we're approaching John Williams level in sheer volume and power.

4. Vertigo (Bernard Herrmann)
Prelude - The Nightmare (5:01)
5. Scene D'Amour (5:11)
I'm sure you all know by now that this is nearly my favorite score of all time - I'm not going to reanalyze the cues here - go read the Vertigo review for that. The performance, however, is pretty terrible - the brass is really out of tune for the giant climaxes, the tempo is too fast, and the strings sometimes lose it on the arpeggios. By contrast, The Nightmare is much too slow. Scene D'Armour, while a fine performance, doesn't nearly reach the emotional height of McNeely's rerecording.

6. North by Northwest (Bernard Herrmann)
Prelude (3:21)
Herrmann utilized the traditional Spanish Fandago dance style for the main titles, turning them into the most exciting action cue of the whole score. I really have to commend the orchestra on their performance here - it's one of the better ones I've heard.

7. Conversation Piece (4:43)
We take a full left turn from the frenetic action of the previous cue to this evocative string and woodwind piece.

8. Psycho (Bernard Herrmann)
Suite for String Orchestra (7:26)
Herrmann's most popular score gets a lengthy suite here, which is really all you need of it. All of the main themes are present, and a lot of the rest is boring string dissonances. Still, it's impossible to equal the performance of the Royal Scottish National Orchestra under Joel McNeely.

9. Marnie (Bernard Herrmann)
Prelude (3:01)
One of Herrmann's most wanted unreleased scores, this is reminiscent of his earlier Vertigo score's love theme, although not as psychological.

10. Torn Curtain (Bernard Herrmann)
Suite from the Unused Score (6:08)
Although not as powerful as the original recording, this is much better than McNeely's mediocre rendition, which is surprising. Somehow, the Prague orchestra manages to nail all the virtuoso flute and horn runs. The rest of the suite is made up of more of Herrmann's trademark minimalism, with a huge flute ensemble.

11. Torn Curtain (John Addison)
Main Title (2:21)
Although still dark, Addison's replacement score is nothing compared to the unbridled malevolence of Herrmann's. He writes it in a pop music idiom, which really takes away from the effect.

12. Topaz (Maurice Jarre)
March from Topaz (2:36)
Hey, isn't that Lawrence of Arabia? This British military march sounds like a weaker counterpart to Jarre's masterful march theme from Lawrence. Performance here is admirable, and the orchestra pulls off the fanfares perfectly.

13. Frenzy (Ron Goodwin)
The London Theme (2:30)
Big Theme syndrome strikes again! Hitchcock's brutal film about rape and murder gets a noble soaring theme for full orchestra, which sounds great on its own, but isn't really in the style of the film.

14. Family Plot (John Williams)
Finale (4:00)
Sadly unavailable, this provides a nice suite of Williams' haunting themes for Hitchcock's final film.

Overall, I think most film music fans could do without this collection of stuff we've all heard before, although some of the unreleased stuff on Disc 1 is noteworthy. However, it's great for newcomers to get a taste of Bernard Herrmann and the Golden Age sound.

---
Psycho Compilation: The Final Score

| | |
| --- | --- |
| Music Rating | 10/10 |
| | |
| Packaging/Liner Notes | 7/10 |
| Sound Quality | 10/10 |
| Length | 6/10 (It's too long!) |
| Orchestral Performance | 6/10 |
| Selection of Music | 6/10 |
| Overall | 7/10 |
---
Psycho: The Essential Alfred Hitchcock is Copyright 1999 by Silva Screen. Review Copyright 1999 by Andrew Drannon. All Rights Reserved.
---