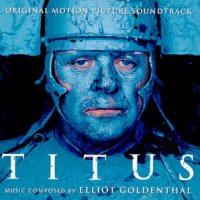 ---

With a score this whacked-out, I'm going to HAVE to see the movie. After a short sabbatical from film scoring (his last job was 1998's In Dreams), Elliot Goldenthal is back with a vengeance. If you thought his other work was eclectic, check out Titus. This new score has just about every facet of music imaginable - a choral opening, swing, jazz, atonal jazz, Wagnerian orchestral, atonal orchestral, Mahlerian orchestral, rock, and techno. Still, the master composer blends all these styles together into a vastly entertaining smorgasbord of musical color. The performance credits listed in the liner notes give a hint as to the diversity: London Metropolitan Orchestra, English Chamber Choir, Mask Orchestra, and The Pickled Heads Band are all credited as performers. I still hold Alien3 to be Goldenthal's masterpiece, but the general opinion of Titus is that it is definitely one of, if not the, best compositions of his career. It should also quiet the detractors of Goldenthal that say he wrote one score (Alien3) and cut and pasted the rest of his work from that. He even includes a main theme to tie the score together, introduced in "Procession & Obsequis." Also present are the composer's typical clanging sound effects. The movie hasn't opened in Memphis at the time of this writing, but from online reviews, it looks to be just as weird as the score. Directed by Goldenthal's wife, Julie Taymor, it presents a full, 3-hour version of Shakespeare's most controversial play, Titus Andronicus. Although it takes place in ancient Rome, Taymor inserts several contemporary elements like motorcycles and 1950's cars into the lush setting. Regardless of the merits of the movie, Goldenthal's exciting and disconcerting score is definitely worth checking out. Sony Classical's album presents a full hour of score, liner notes by both the composer and director, and pristine sound quality. Overall, if you want something VERY different, check it out, especially if you're a Goldenthal fan. Drug addicts may also want to look into it - you could probably get high just from listening to it. Try Mad Ole Titus for starters. ;-)

---
Track by Track Analysis:
1. Victorius Titus (2:58)
Goldenthal opens his score with one of its highlights. For what I presume is the main title, he introduces the main theme of the score in an a capella male chorus. Please, don't even TRY to compare it to Orff's O Fortuna - they're completely different. Goldenthal's chorus is hugely dark, highly chromatic, and unusually percussive. In the second half, he introduces a brassy chorale to back the singers, as well as trademark Goldenthal percussion sound effects that sound like swords hitting together.
2. Procession & Obsequis (3:01)
The composer continues the weird atmosphere with a return to the ethnic percussion as well as one of the only instances of his pitch-bending horns, now on a weird-sounding flute. The dark, uncertain tone continues throughout the track as the male chorus returns, except much lower, sounding almost like the Gyoto Monks. In "Obsequis," the composer introduces another of the main themes, a highly modernistic, chromatic theme for solo boy soprano. A huge orchestral recap of the theme rounds out the track.
3. Revenge Wheel (:52)
Goldenthal's first major action cue of the score utilizes some of the thematic material from "A Time to Kill"'s Pressing Judgement track. Its foundation is a racing bass ostinato for low woodwinds. An ominous horn theme enters on top of it - the orchestra must have had an absolutely huge horn section to achieve the acoustics in this piece.
4. Tribute & Suffrage (4:17)
The track begins with an unnoteworthy string elegy, but soon the composer introduces the first jazz elements into the score with a solo alto saxophone. It performs a lengthy cadenza, with each iteration becoming more and more atonal, and at the climax, the orchestra introduces a swing rhythm. The resulting piece is more brass-driven, and like the cadenza beforehand, it grows more and more atonal, until Goldenthal overtakes it with a series of piercing minor-key fortissmino chords in the brass. Low-key orchestral murmurings round out the track.
5. Arrows of the Gods (1:32)
Goldenthal begins this track with a short recap of the piercing minor chords from "Suffrage." The remainder is a huge, Prestissimo action cue with large timpani parts and an exhilerating string ostinato. Overall, this is one of the action highlights of the score.
6. An Offering (2:04)
This cue reprises the modernistic boy soprano theme, expanding it into an intense dramatic finale.
7. Crossroads (3:24)
Here, Goldenthal veers off into his trademark sound of unstable chromatic music. The strings dominate this track, and the chromatic harmonies are on the verge of drifting into atonality, but the skilled musician keeps them at bay. Consequently, this, along with the other tracks in which the composer stays in an orchestral format, comprise a suite of intense Shakespearian dramatic music.
8. Vortex (1:33)
"Crossroads" segues into Vortex, which serves as a short postlude. After a few more seconds of keeping the atonality at bay, Goldenthal lets loose with a distorted screaming chorus.
9. Swing Rave (1:53)
Although the composer has continually hinted at it, this is the first time he devotes an entire track to non-orchestral music. This is firmly rooted in swing, with the composer's trademark high brass trills building on top of each other. As unlikely as it sounds, this was one of the highlights of the score and one of the chief factors of why the album is so entertaining.
10. Ill-Fated Plot (2:20)
This track provides a short return to orchestral music, and it soon turns into something you'd expect from a horror score with sudden outbursts of atonality and a swirling, dissonant string ostinato. But that's nothing compared to the next track...
11. Pickled Heads (5:05)
Whoa, I wasn't expecting this! Add techno and hard rock to the styles covered on this album. Surprisingly, Goldenthal even makes this sound atonal. It also contains a distorted male vocal that holds it together. After two minutes of undiluted noise, the composer inserts almost the most surreal track of the album (it would be THE most if not for Mad Ole Titus). Imagine the Riddler's circus-like jazz music from Batman Forever put to a rock backbeat and you'd almost be on target.
12. Tamora's Pastorale (1:13)
This forms a quiet, nondescript followup to the madness present in the previous track. The composer briefly flirts with an Arabic sound to represent one of the main characters.
13. Titus' Vow (3:43)
This is another of Titus' frenzied action cues. It opens with an extremely difficult repeated brass/string ostinato, but later falls into a swaggering militaristic scherzo - one of the most exciting passages of the score. Before the final section, the composer uses a Mahlerian orchestral passage that sounds like it could have easily come from one of Mahler's symphonies. The final section is an exotic return to a more rockish backbeat.
14. Mad Ole Titus (2:28)
OK, this is it. The Mother of All Weird Cues. It opens with an aimless, oppressive ostinato for synth, which is later joined by bongo drums and meadering saxophones. And I really mean MEANDERING. You've probably never heard saxes sound like this (I know I haven't). To add to the confusion, he reintroduces a jazz percussion backbeat. The final minute is a surreal passage for ethnic drums with a huge orchestral climax. I read somewhere that this cue underscores the film's orgy sequence, and from the way, that couldn't be far from the truth.
15. Philimelagram (1:46)
I don't believe it! A major chord! Goldenthal returns to his orchestral stylings with an intensely moving string/horn piece.
16. Pressing Judgement (3:32) (From "A Time to Kill")
I haven't heard the score for "A Time to Kill," but I may have to try it out - it sounded absolutely fantastic in the movie and this track is another of Titus' highlights. It opens with a reprise of the ostinato/horn theme from "Revenge Wheel," but soon goes back to surreal atonality with a huge screaming chorus. Also back is the extremely low male chorus theme and chromatic dramatic theme from track 2.
17. Aaron's Plea (2:02)
The majority of this track is another nondescript, tonally unstable string elegy with a huge brass climax midway through the track.
18. Coronation (1:53)
Don't expect any huge brass fanfares in this coronation cue! Instead, Goldenthal reprises the fascinatingly unstable string theme from "Crossroads," making this track exciting in a totally different aspect.
19. Apian Stomp (1:32)
This is Titus' final large action cue, reprising some of the action themes, extremely high brass trills, and off-beat rhythm. The final section is a hugely primal series of brass fanfares over a pounding timpani ostinato.
20. Adagio (2:25)
Well, this is about the most misleading cue title I've ever seen. Guess what, it's not a string elegy!
Instead the composer pens a final jazz track with the catchiest theme heard in the album. As you'd expect, each iteration gets more atonal. I can't believe I'm saying this, but it's easily another of Titus' many highlights.
21. Finale (8:33)
Even more surprising, Goldenthal avoids any synths/jazz whatsoever and instead concocts an epic orchestral finale. Heavy on Wagnerian brass and strings, it recalls Alien3's spectacular Adagio, and also ties up a few of the supporting themes.
22. Vivere (3:33)
Apparently this was source music from the film, a vintage '30s Italian big band song.
Like I said, this is probably the weirdest orchestral score I own, yet it's also one of the most entertaining. Listeners usually put off by Goldenthal may want to consider it - they may change their minds about the composer after hearing it once. The hour will fly by in no time.

---
Titus: The Final Score
| | |
| --- | --- |
| Music Rating | 10/10 |
| | |
| Packaging/Liner Notes | 8/10 |
| Sound Quality | 10/10 |
| Length | 9/10 |
| Orchestral Performance | 9/10 |
---
Titus is Copyright 2000 by Sony Classical. Review Copyright 2000 by Andrew Drannon. All Rights Reserved.
---