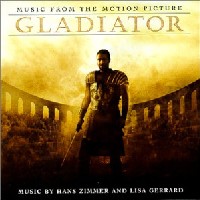 ---
Unfortunately, Hans Zimmer has regressed. Or so I thought upon first listening of his new Gladiator score, which takes the traditions set by Rozsa and North and throws them out the window. After several complete listenings of the album, however, something extraordinary occurred - I began to accept this score for what it was, not what I thought it was supposed to be. Zimmer takes his typical action sound found in The Peacemaker, Crimson Tide, and innumerable other scores and pads it with a bed of stylized Eastern-flavored contemplative moments fueled by Lisa Gerrard's exotic vocals. Surprisingly, several of these action cues transcend the typical Media Ventures monophonic sound, with the composer finally introducing complex counterpoint and subtlety while still maintaining some of the most exciting rhythms and ostinatos of his career. Gladiator contains several main themes introduced at various intervals throughout the album and, while one or two sound grating, the rest add immeasurably to the atmosphere and melody. However, two of these leitmotivs have origins other than Hans Zimmer - he uses the central section of Holst's Mars, The Bringer of War as one of his main action themes, as well as several unveiled references to Wagner's Ring Cycle. According to the composer, these were completely intentional, and they sound completely in synch with the rest of Zimmer's themes. Still, one would think higher of him if he would actually credit this in the liner notes. Decca's release clocks in at an hour, but there were reportedly a few great cues left out of the album, like several other Zimmer releases. Fortunately, this release breaks up the usual lengthy suites, transforming a thirty minute cue into 8 segueing tracks. In conclusion, beware: upon the first few listenings, most people will absolutely loathe this, but after several more spins, Gladiator transforms itself into one of the most deliriously enjoyable album releases of recent memory.
---
Track by Track Analysis:
1. Progeny (2:13) /
Zimmer's main titles begin inauspiciously with an introduction of one of the main themes. Voiced on flutes, this turn on the harmonic minor scale gives the opening a "calling in the wilderness" prelude feel that will recur at various intervals throughout the album. Cellos pick up the motif, blending with the flutes to create an incongruous soundscape punctuated by transparent synthesizer tones and Spanish guitar.
2. The Wheat (1:03) /
The atmosphere from "Progeny" continues, now with a new motif voiced hauntingly by Lisa Gerrard, with Easternized turns and ambient effects. An unmistakably Zimmer ostinato gradually overwhelms this melody, segueing into one of the main highlights of the album:
3. The Battle (10:02)
As the rhythm reaches a fever pitch, Zimmer introduces what could be called one of the main themes - a mournful, moving elegy for French horns, later accompanied by climbing strings. After a surreal chant by a solo baritone, the true action music begins. As stated above, this is probably the most complex yet exciting scoring produced by Zimmer thus far. He gives it the feel of an unearthly dance and, indeed, it is ingeniously written in 3/4 waltz time. A surreal Spanish guitar starts it out, eventually melding into the dissonant strains of Holst's Mars. The atmosphere continues to build, eventually climaxing in Zimmer's trademark speaker-endangering action music, now given the character of a demonic scherzo with the waltz rhythm. The piece houses at least five main motivs, each to be reprised later. After a few minutes of these themes being woven into each other in increasingly subtle ways, the score climaxes in a primal display of orchestral power actually reminiscent of Rozsa or North's pagan savagery scoring. Finally, after a quick reprise of a few of the motivs, the cue calms into a tranquil postlude accompanied by Gerrard. This theme is the key to the entire score - throughout the album it will be developed into a moving, nostalgic melody finally recognized in the final track.
4. Earth (3:01)
Zimmer provides a respite from the previous track with a new mournful theme voiced first by ethnic instruments and then by trumpet. Following this is a slight development of the main theme at which the previous track's finale hinted, voiced on mournful solo cello, and later joined by flute.
5. Sorrow (1:26) /
This brief piece serves as a demonstration for Lisa Gerrard's vocals. Her exotic, Easternized siren's song gradually becomes more and more rhapsodic, always accompanied by low strings. It fades into:
6. To Zucchabar (3:16) /
This track starts ominously with suspended strings/synths, soon joined by the main melody on a duduk, which sounds almost like an ethnic saxophone. Its melody serves as a blend between a subtle hint of the main theme and the material from "Sorrow." As the piece progresses, Zimmer introduces an exotic rhythm in the background for drums and Spanish guitar. As the melody fades out, a high string pitch transforms us into:
7. Patricide (4:08)
Finally, the composer presents a fully orchestral track with only the briefest mention of synthesizers. The majority of the track is a Williamsesque elegy for strings with operatic minor chords sometimes bordering on dissonance. It sounds quite uncharacteristic for Zimmer - it proves he can write in a lush, Wagnerian vein if he chooses to.
8. The Emperor is Dead (1:21) /
This features an ethnic pizzicato instrument somewhat like a zither, quoting the thematic material sung by Gerrard in The Wheat. As another catchy rhythm starts up, we segue to:
9. The Might of Rome (5:18)
Undoubtedly, this serves as one of the most appealing tracks on the album, building the previous track's rhythm into a huge choral sigh and finally fading out into more of Gerrard's exotic vocals. In the final two minutes, Zimmer blatantly rips off Wagner's Ring cycle with a powerful combination of Das Rheingold's orchestral prelude (the ascending arpeggios), as well as portions of Siegfried's Funeral March from Goetterdaemmerung. These references, however, fit perfectly with the rest of Zimmer's vision, although it would have been better if he'd credited them in the notes. The only downside to this, however, is a tacky burst of synths during the pounding "death motif." However, he makes up for it with a fortissimo choral chant that finishes the track.
10. Strength and Honor (2:09) /
This is an unobtrusive expansion of some of the minor key string ideas from Patricide, which soon segues into:
11. Reunion (1:14) /
Lisa Gerrard enters again with an exotic, perfectly realized continuation of her typical thematic material - Gladiator has been criticized for these Easternized moments, but I think it blends perfectly with Zimmer's unique perception of the film. Another rhythm begins towards the end of the track, segueing again:
12. Slaves to Rome (1:00) /
This track is one of the albums weaker points, combining a jovial string march with Zimmer's characteristic synths.
13. Barbarian Horde (10:33) /
The second of Zimmer's action extravaganzas, this opens with a reprise of the "Calling" motif from Progeny, voiced again on flutes. After a while, however, an overbearing, oppressive dissonant chord obscures the motif, and the Mars motivs return, signifying a return to the battle music. This, however, possesses less of the grace and beauty of "The Battle," instead using the action motivs in new, dissonant arrangements that come across far darker and more malevolent than their predecessors. Still, Zimmer continues his newfound subtlety by blending his themes together in unique new ways. Finally, as it seems the speakers are going to explode, everything subsides into an absolutely breathtaking version of the almost-fully-developed main theme, voiced on horns, which will reach its logical conclusion in the last track. The remainder of the cue reintroduces some of the motivs from Siegfried's Funeral March in thinly veiled rearrangements, used much more powerfully than in "The Power of Rome." Finally, in the last minute, the mournful theme that began "The Battle" becomes a moving elegy with the entire orchestra and chorus performing it. Again, the track segues into:
14. Am I Not Merciful? (6:33) /
(Luckily, Decca split the tracks of the typical Zimmer suites for this release - this track would have been about 30 minutes long, encompassing cues 10 through 17.) After a few minutes of a reprise of the Patricide motivs, as well as a subtle reference to the opening Calling theme, Gladiator reaches its climax with a final playing of the Funeral March themes, now performed by the full orchestra and chorus. The remainder of the album ties up the loose ends of the score, finally developing the main theme.
15. Elysium (2:41) /
In this track, the tone of the score changes drastically with a new theme voiced by Lisa Gerrard which surprisingly gives "Elysium" and "Now We Are Free" almost an African timbre.
16. Honor Him (1:19) /
Here, Zimmer finally presents a mystical, almost fully orchestral version of the main theme, one of the most moving moments of the album. This serves as a prelude to the finale:
17. Now We Are Free (4:14)
In "Now We Are Free," Zimmer answers all the questions presented in the rest of the score with a full performance of the main theme by Lisa Gerrard, as well as the motivs from "Elysium." Under this, Zimmer bids farewell to his string themes from Patricide, now transformed into a major key. Finally, everything subsides into a final afterthought of the motivs from Elysium, ending one of the most contenting listening experience in years.
Be warned: upon first listening, most non-Zimmerites will DESPISE this score with a vengeance, just as I did. However, if you can put aside any premature judgments and accept Gladiator for what it is, you'll finally accept its uncharacteristic subtlety and beauty, as well as its complex action music.
---
Gladiator: The Final Score

| | |
| --- | --- |
| Music Rating | 9/10 |
| | |
| Packaging/Liner Notes | N/A |
| Orchestral Performance | 8/10 |
| Sound Quality | 9/10 |
| Length | 9/10 |
---
Gladiator is Copyright 2000 by Decca Records. Review Copyright 2000 by Andrew Drannon. All Rights Reserved.
---